German developer VSB plans 330 MW onshore wind cluster in Croatia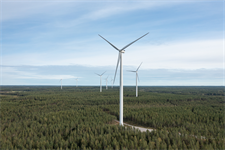 German developer VSB Group is developing a 300MW+ wind complex in southern Croatia that would be one of the largest wind developments in the country.
It has not yet received regulatory approval for the 329MW Imotsky Imotski (329MW) DownSplit-Dalmatia County, Croatia, Europe Click to see full details near the border with Bosnia and Herzegovina, and awaits the statutes allowing the project to be enlightened.
The developer hopes to begin construction in 2026 before commissioning the project in 2027.
He estimates that the project could produce 700 GWh of electricity per year, equivalent to the annual electricity needs of the county of Split-Dalmatia.
VSB estimates that the project will require around 400 million euros in funding but did not specify how the project would be financed.
The Imotski cluster would consist of four wind farms spread over the municipalities of Podbablje, Runovići, Zagvozd, Lokvičići, Lovreć and Proložac. It is unclear how the 329 MW capacity would be split between the individual projects.
As part of the project, VSB plans to expand and modernize the country's electricity grid. The developer added that this will help make Croatia more attractive to renewable energy investors.
VSB Croatia Managing Director Ante Renić says the Croatian coast and its hinterland have "outstanding potential for renewable energy".
The project would give a major boost to Croatia's wind farm, but it is not the largest planned wind farm in the country. Earlier this year, Dutch consultancy Green Trust and German turbine maker Enercon unveiled plans for a 425 MW project in the north of the country.
Croatia currently has just under 1 GW of installed wind capacity, according to Windpower Intelligence, the research and data division of Windpower Monthly.