Easter kicks off with road and airport travel chaos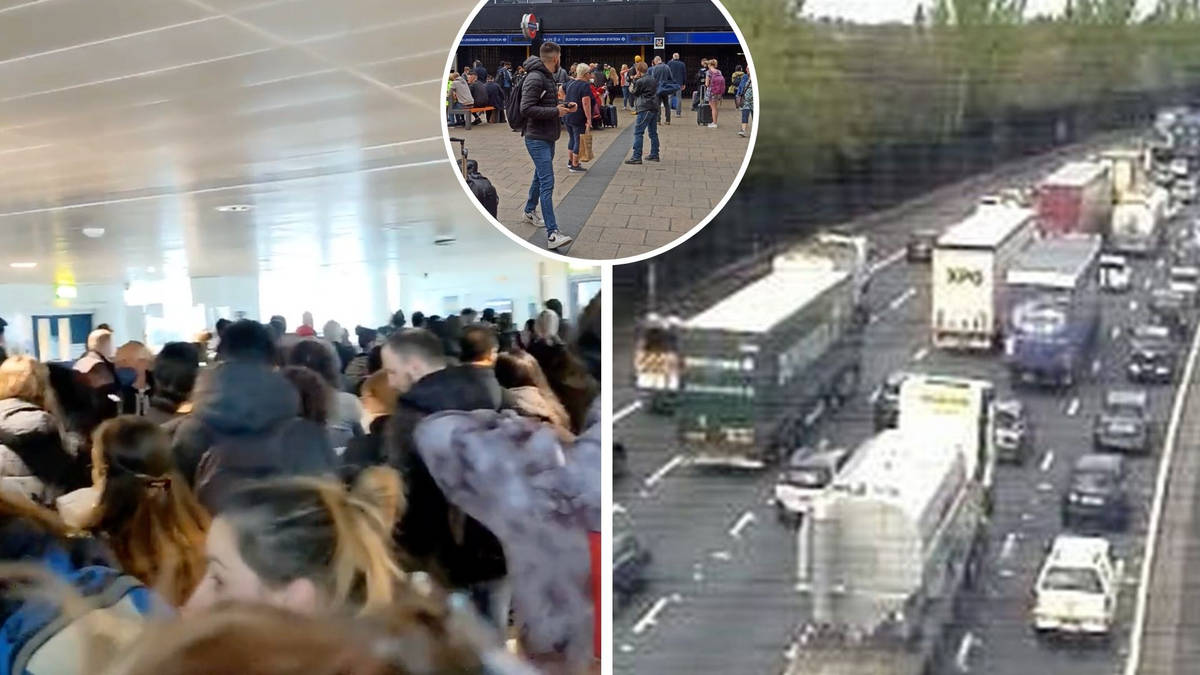 April 14, 2022, 5:03 p.m. | Updated: April 14, 2022, 5:07 PM
Holidaymakers today faced travel chaos as millions set off on four-day trips over the Easter weekend.
Misery on roads, rails and at airports worsened today as families began an early exodus ahead of the extended four-day break, the first since Britain's coronavirus restrictions for international travelers have been abandoned.
Jet-setters desperate to embark on their holiday abroad have been left in limbo after 13 flights from Gatwick Airport were cut, including planes to Italy, Germany, Austria and Croatia, among other destinations.
Manchester Airport holidaymakers faced hellish queues and hours of waiting to board flights as the Covid-19 disease and staff shortages continued to cause huge queues, cancellations and delays.
The M1 was also blocked this afternoon after the motorway was reduced to a single lane following an accident with drivers complaining of 10 miles of traffic at a standstill and waits for more than 90 minutes.
Rail passengers at one of the country's busiest stations, London Euston, were 'crowded, loud and confused' this afternoon as holidaymakers were evacuated after a fire alarm sounded at 2.46pm.
Rail chaos is set to worsen in the coming days with Euston closed for the long weekend.
London's main rail lines at Heathrow and Gatwick airports will also be closed for the bank holiday, causing spelling disruption and frustration for thousands of Britons.
Thirteen flights were canceled from Gatwick today, adding to the thousands axed by airlines in recent days due to staff shortages.
Holidaymakers were left stranded after flights to Dubrovnik, Pisa, Berlin and Amsterdam were grounded, Surrey Live reported.
Footage released from Manchester Airport's Terminal 3 on April 12 appears to show hundreds of Ryanair passengers crammed into a departures lounge.
Read more: Boris deploys navy to stop Channel migrants as fury erupts over Rwanda's plans
Holidaymakers were reportedly left waiting at the gate for more than 90 minutes after four scheduled flights departing from the same gate were delayed.
One passenger wrote to Ryanair and Manchester Airport: "How is this acceptable? Standing for 1 hour, no ventilation, people needing help. No explanation, no security measures."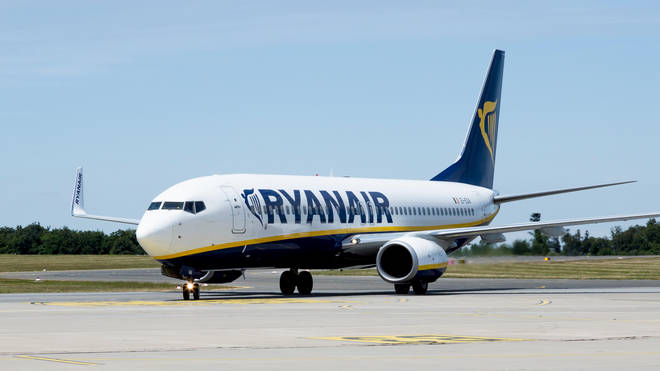 Drivers on the M1 between Luton and Hemel Hempstead this afternoon were stuck in heavy traffic jams reaching up to 10 miles, causing delays of up to 90 minutes.
National Highways said lanes two, three and four of the northbound freeway were closed between junctions 10 and 11 following a crash around 12:30 p.m.
Read more: First Photo of Beaten Briton Captured by Russians in Last Battle of Mariupol Emerges
The M25 was also stuck for more than 25 miles this afternoon as Britons attempt to escape the city for the Easter weekend with temperatures set to soar to 22C in parts of the capital and the south coast.
Traffic was jammed between junctions 8 and 15 on the motorway with the worst of the congestion between Chertsey and Heathrow and around the M3.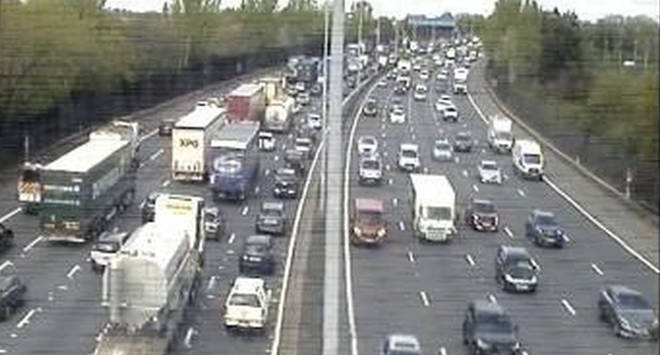 Read more: Former GP who attacked victims in their homes and practice guilty of over 50 sex crimes
Hundreds of passengers were evacuated this afternoon from London's Euston station and the entrances to the Tube blocked off following a fire alarm.
A spokesman said: 'British Transport Police received a report at 2.46pm today of the fire alarm sounding at Euston Tube Station. The station was closed as a precaution while London firefighters investigated.
"Nothing was found and the station has now reopened."
The station will close from midnight tomorrow until 5am Tuesday as part of planned engineering work on the line from Euston at Watford Junction to Milton Keynes.
Euston's closure will add to the misery of travel for Northern Lines passengers already affected by a partial line closure – and there will be no service between Charing Cross and Battersea Power Station or Euston and Stockwell tomorrow and Saturday.
The Piccadilly line from Acton Town to Heathrow will also be closed over the long weekend, while ongoing night strikes will continue to affect the Central and Victoria lines.